Send Inquiry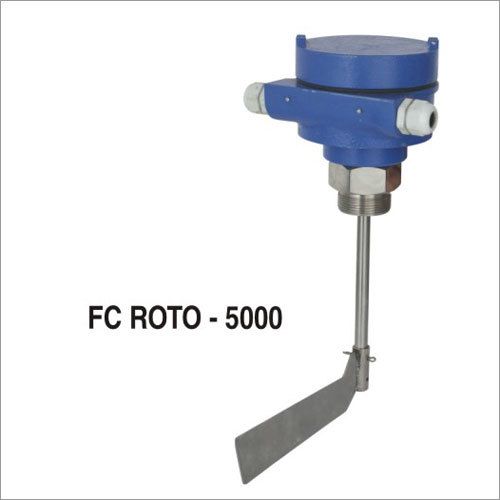 Product Specifications
Industrial

Blue

Rotating Paddle Point Level Switch

Galvanised mild steel, stainless steel.
Product Description
Level switch for powders and free flowing solids.
Flexible coupling (optional as per application).
Extension up to 3m.
Robust, dust and watertight housing.
Extended life by motor shut off design.
Sealed bearings.
Interchangeable paddle assemblies.
Magnetic Clutch mechanism.
ABOUT FEROTO
A small electric motor drives the paddle, which rotates freely in the absence of material. Impeded by material the motor will be turned within the housing while loading a spring and triggering two switches.
One of them is a dry electric contact for control and alarm functions while the other cuts the power to the motor. When the material level drops, the loaded stretched tension spring returns the motor to its original position and the unit is reactivated.
APPLICATIONS
FEROTO heavy duty, rotary paddle switches are the most suitable for level detection of dust granules and other free flowing solids up to the particle size of 10 mm. Mounted in bins, silos and hoppers it can be applied for control of Ievel,filling and emptying as well as for protection against over filling.
MAIN APPLICATION AREAS:
Agriculture: beet slice, hard crop, Chemical industry: plastic powders, granules, Pellets.
Food industry: sun flower, sun flower cod, Building industry: sand, calcium powder, gypsum, coffee and cacao powder, flour, sugar, etc. Energetics: active soot, coal powder, fly ash.
NUMBER AND MATERIAL OF VANES:
Specific gravity and particle size of the material provides orientation for the number of vanes.
Most commonly used is the stainless steel, single vane blade. The lowest specific gravity for this paddle is 0.4 kg/dm3.
For lighter materials the use of 3- or 4-vane paddle is recommended.
PROBES
Standard probe length : 150 mm. Longer length up to 3 m. Construction and length of the probes would depend upon the application.
Various types of probes: Rigid and Flexible available.
Standard Technical Specifications
Housing : Cast Aluminium
Insertion length : 150 mm standard, Extension upto 3 mtrs
Revolution : Per minute / minute
Ambient temperature : -40degC.+65 deg C
Material of wetted parts : Galvanised mild steel, stainless steel.
Material and number of vanes : Stainless steel,l to 4, various types available as per application.
Process connection : l-l/2" BSP ( standard) others on request.
Medium specific gravity : min. 0,08 kg / dm3
Medium temperature : 40 degC. . .+80 degC, special version up to 200 degC available.
Electrical Cable gland : PG 4 6, 2 nos.( Polymer)
Medium pressure : max. 2 bar
Output: SPDT 230 V AC, 10 A
Power supply: 230 V AC, 15 or 110 V AC or 24 V DC
Enter Buying Requirement Details
Other Products in 'Level Switch' category